· By John Doe
All The best FREE Serum Skins
The Ultimate List Of Free Xfer Serum Skins
As you know, we love Xfer Serum on The Highest Producers. We've designed a lot of presets for this amazing synth plugin and also created a free skin, called Fallout Pip-Boy Vault-Tech. If you liked this skin and are looking for new free skins to give a new look for Serum, you have come to the right place.
Because although the GUI interface is really nice, it can be interesting to change the Serum skin both to avoid repetition and to give you a more creative environment to work with!
So we've browsed the internet and listed 27 amazing high-quality free skins for Xfer Serum! There is necessarily something for everyone but if you still cannot find the skin you need, be aware that you can also create one (since update 1.213 allowing users to completely customize the Serum interface.).
If you have some $$ want to purchase some fresh premium skins, we've also listed some of the best-paid serum skins here
Anyway here is the list of my favorite free Serum skins and we hope, make your search a little bit easier!
(If you don't know how to install your fresh new Serum skins, don't worry we have prepared some simple installation instructions at the end of this article and we will guide you through the process step by step)
27 Free Xfer Serum Skins to Download
1 – Hotline Miami by Unknown – Download

Download Hotline Miami free skin
2 – Massive by Entity & Zaneth – Download
3 – Sketch by Thenatan – Download
4 – Miruku by Miruku- Download
5 – OTT by Entity & Zaneth – Download
6 – Anthracite Free Skin by Aevi – Download
7 – VR Red by Virtual Riot – Download
8 – Ableton Skin by Nasko – Download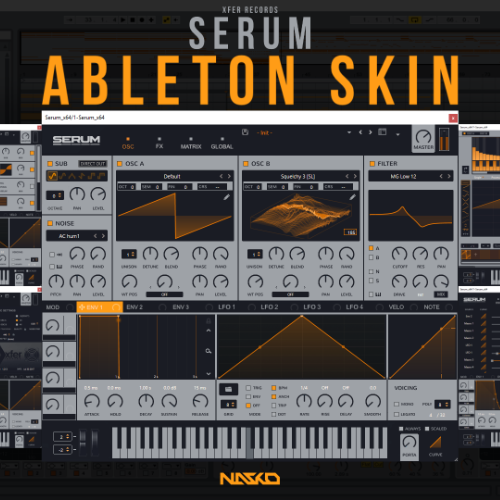 9 – Colorful XS by Eliaswubs – Download
10 – Antidote Free Serum Skin by Qoiet x Antidote Audio – Download
11 – Dirty Teal by Echoworks – Download
12 – Purple Feel by Unknown – Download
13 – Rick N' Morty by Wolf.wav – Download
14 – Legend Of Zelda by Justin Fowler – Download
14 – Pro HDR Skin by Ninevibes.tv – Download
15 – Tascione Skin by Justin Fowler – Download
16 – Pixel Terror Skin by Justin Fowler – Download
17 – Pierce Skin by Justin Fowler – Download
18 – Kompany Skin by Justin Fowler – Download
19 – Kill The Noise Skin – Download

20 – Wood Grain – Download
25 – Prometheus by Lance Thackeray – Download

27 Fallout Pip-Boy Edition Xfer Serum Skin – Download
Some of the best PREMIUM Skins
Here is the list of my favorite premium skins for Serum.
Dark Silence – Goldmember Skin – Download
Dark Silence Avatar Jungle Speed – Download
Ivmgone NeonRed Serum – Download
Download
How to install Serum Skins?
Requirement: To install Xfer Serum Skins you'll need the latest release of Serum. Then you'll be able to access the skins folder.
To add this custom skin to Serum, you'll have to place the Skin you want folder into the Serum Skins folder. You could find the location:
Windows:
Documents/Xfer Serum/Presets/Skins
macOS:
Library/Audio/Presets/Xfer Records/Serum Presets/Skins
Once you're here, you'll see one Default Filter! DO NOT TOUCH THIS FOLDER. Just add the Fallout Skin Folder (unzipped) next to it as shown in the Gif below:
Finally, when you'll open Serum, you'll just have to choose this skin by clicking on the Serum Logo:
And voila!
How to create a custom Skin for Xfer Serum
More about Serum